Global technology company Tektronix marks 75 years of innovation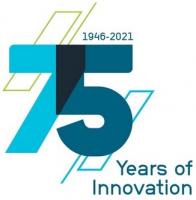 07/30/2021
Tektronix, Inc. celebrates a milestone 75 years, as the famed Oregon-grown company reflects upon its legacy as a technology pioneer and status as a current industry leader. Credited with being "the seed that grew the Silicon Forest," Tektronix was established in 1946 by C. Howard Vollum and Melvin J. Murdock with the creation of the world's first time-base triggered oscilloscope. Renowned globally for its contributions to major technology breakthroughs, from the invention of color television to space exploration, Tektronix is credited as one of the most influential test and measurement companies in history.
"For the past 75 years, Tektronix has been at the forefront of the world's greatest technological achievements, accelerating global advancements by empowering today's leading engineers and engineering students," says Tektronix president Tami Newcombe. "Our company is rooted in the forward-thinking mentality of a 75-year-old start-up, fueled by the same sense of curiosity and customer focus our founders celebrated."
In conjunction with its milestone anniversary, Tektronix has released several new products to market. An industry-first, the 6 Series B MSO mixed signal oscilloscope extended the company's award-winning oscilloscope portfolio to 10 GHz and 50 GS/s sample rates enabling engineers to test ever-faster and smaller computing systems powering today's digital world. With advancements in the 5G and automotive industries, Tektronix also released an industry-first, the TekExpressTM multi-gigabit automotive ethernet compliance test solution, to meet the requirements of complex automotive designs.
www.tek.com
---
Related Information: