Rohde & Schwarz hosts Oscilloscope Days 2021, a new two-day digital seminar event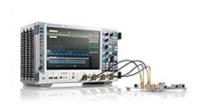 05/04/2021
Rohde & Schwarz has announced details of an upcoming Oscilloscope Days seminar event for 2021, a valuable opportunity for electrical engineers to learn the essentials of oscilloscopes by joining virtual hands-on sessions that relate to real world design challenges.
The free to attend live training webcast will take place on May 18 and 19, 2021. The agenda includes educational oscilloscope fundamental training sessions with direct interaction with technical experts from Würth Elektronik, Farnell and Rohde & Schwarz, intended to sharpen electronics engineers' knowledge in the fundamentals and test features of modern digital oscilloscopes. An application-oriented presentation style will combine theoretical and practical learning, based on the day to day testing challenges found in electronic designs. To reach a broad audience from across Europe and beyond, the sessions will be streamed in four languages: English, German, French and Russian.
Sessions will cover both practical and theoretical approaches, with application-oriented presentations and real-life testing challenges. There will be demonstrations and advice on where improvements to debugging and measurements with a device under test can be made. The sessions are based on ready to buy testing equipment for a large variety of measurement applications and budget.
For more information on the Oscilloscope Days 2021 event and to register, please click here.
www.rohde-schwarz.com
---
Related Information: