High speed, high accuracy RF power measurements up to an unrivalled 67 GHz with the R&S NRP67S/SN power sensors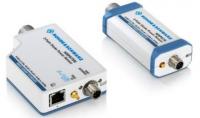 03/05/2021
The new R&S NRP67S and R&S NRP67SN power sensors introduce a frequency range unprecedented in a diode power sensor, reaching from 50 MHz all the way up to 67 GHz. Combined with the advantages of the unique Rohde & Schwarz three-path diode technology, a wide dynamic range from -70 dBm to 20 dBm, and a high measurement speed of 10,000 measurements per second, users benefit from extremely fast power measurements with unsurpassed accuracy and dynamic range previously not possible at these frequencies.
With the latest WiFi and Wireless HD standards operating above 57 GHz now supported, as well as practically all other wireless communication technologies in use, the R&S NRP67S/SN is a near universal tool for wireless infrastructure power measurements.
Read more on Rohde & Schwarz web site.
www.rohde-schwarz.com
---
Related Information: