New TI Burr-Brown™ audio ADC enables far-field voice capture at four times the distance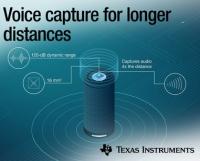 12/24/2019
Texas Instruments (TI) introduced a new audio analog-to-digital converter (ADC) capable of capturing clear audio up to four times farther away than competing devices. The TLV320ADC5140 is the industry's smallest quad-channel audio ADC with this level of performance. The device is part of a new family of three TI Burr-Brown™ audio ADCs that enable low-distortion audio recordings in loud environments, along with far-field, high-fidelity recordings in any environment.
Key features and benefits of the TLV320ADC5140
Clear audio capture in any environment in beamforming systems: The TLV320ADC5140 has a built-in 120-dB dynamic range enhancer (DRE). At a system level, the DRE scheme boosts low-volume audio signals while maintaining low-distortion recordings, even at close proximity to the speaker output. The DRE also improves far-field, high-fidelity recordings in all environments.
High-quality voice compatibility with premium microphones: The TLV320ADC5140 is the first ADC that fully supports the latest high signal-to-noise-ratio microphones with greater than 106-dB dynamic range.
Unprecedented integration to enable versatile system design: Allowing for system flexibility with conversion of as many as four analog or eight digital microphones (or a combination thereof), the TLV320ADC5140 also includes programmable features such as gain and phase calibration to equalize microphone-array mismatches. Other features include a programmable gain amplifier, high-pass filters, channel mixing, and linear phase or ultra-low-latency decimation filters.
Small size with low system power consumption: Using built-in features of the TLV320ADC5140, engineers can offload digital signal processing tasks, allowing them to shrink their designs without sacrificing system reliability. Power consumption is only 9.5 mW per channel at 48 kHz.
For more information click here.