Keysight Technologies Introduces EMI Receiver Solution to Accelerate EMC Compliance Testing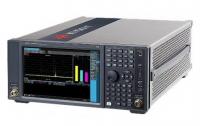 12/21/2018
Keysight Technologies, Inc., a leading technology company that helps enterprises, service providers, and governments accelerate innovation to connect and secure the world, announced the Keysight N9048B PXE Electromagnetic Interference (EMI) receiver, and enables high sensitivity measurements and diagnostics for faster electromagnetic compliance (EMC) certification.
EMC certification is a required step in bringing any electronic device to market, as it demonstrates safe and reliable operation. Failing EMC compliance testing, due to faulty designs, can result in costly product delays. Keysight's N9048B PXE EMI enables independent compliance test laboratories and companies with in-house self-certification labs to make radiated and conducted emissions tests, certifying that a product meets local regulatory compliance standards.
"The introduction of Keysight's PXE EMI receiver simplifies the test efforts of global EMC test labs," said Joe Rickert, vice president and general manager of high frequency measurement R&D for Keysight's communications solutions group. "With compliance adhering to the highest international standards, industry leading performance, and EMC focused application software, certification labs can confidently handle any new product that is requires compliance testing."
The N9048B PXE EMI receiver, with three frequency ranges up to 26.5 GHz, delivers:
Industry leading sensitivity performance which allows detection of small signals close to the noise level, common in radiated emissions measurements
Full compliance with CISPR 16-1-1 and MIL-STD-461 international standards, ensuring devices comply with any worldwide standards
Time domain scan (TDS) capability, enabling users to meet dwell measurement requirements, while reducing receiver scan and test time
Multi-touch user interface and EMC measurement application software focused for ease of use
www.keysight.com
---
Related Information: