Keysight Advances Autonomous Driving Safety with New High Frequency Automotive Radar Test Solution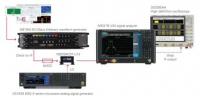 11/06/2018
Keysight Technologies, Inc., a leading technology company that helps enterprises, service providers, and governments accelerate innovation to connect and secure the world, announced the new, enhanced Keysight E8740A Automotive Radar Signal Analysis and Generation solution. This new solution enables radar-based, advanced driver assistance systems to proactively detect and mitigate risks of collisions.
As advanced driver-assistance systems (ADAS) and autonomous vehicles gain in popularity, they also raise concerns about safety and reliability. Autonomous vehicles are dependent on advanced sensor technology with highly integrated radar. According to the Society of Automotive Engineers (SAE), autonomous vehicles require up to 24 of these radar sensors in each car. Interference between sensors can seriously impact automotive radar reliability. Even a slight error or unexpected misbehavior in the system could lead to a critical situation or accident.
The new version of the Keysight E8740A automotive radar signal analysis and emulation solution is based on industry-leading, high-performance physical layer instruments to ensure best in class radio frequency (RF) and mmWave performance verification for each radar design under test, as well as an easy-to-use, intuitive user interface to ensure maximum productivity. This comprehensive test solution also generates various real-world conditions to address any potential automotive radar interference issues.
"Keysight understands that reliable technology is pivotal to minimize vehicle collisions, prevent human injuries, and ultimately save lives", said Siegfried Gross, vice president and general manager of Keysight's Automotive and Energy Solutions business unit. "That is why Keysight will continue to invest resources in this particular field as we aim to enable developers to overcome radar design and performance verification challenges."
The new Keysight E8740A automotive radar signal analysis and generation solution offers:
Powerful automotive radar interference test sequence and physical layer test plan creation based on Keysight's PathWave software platform.
Wideband mmWave and flexible (frequency-modulated continuous wave, continuous wave, orthogonal frequency division multiplexing, and coded modulation) signal generation.
Pre-defined test set-up for automotive radar standards.
---
Related Information: