0.33-inch full-HD DLP® Pico™ chipset from Texas Instruments is industry's smallest 1080p display solution with unmatched brightness capabilities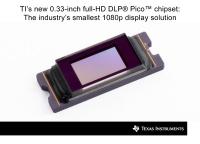 02/03/2017
As brands and developers have been eagerly awaiting a solution that will allow them to create smaller form factor products integrating 1080p projection displays, Texas Instruments (TI) (NASDAQ: TXN) announced its DLP Pico 0.33-inch full-HD chipset. Consisting of the DLP3310 digital micromirror device (DMD) and DLPC3437 controller, this is the industry's smallest 1080p display chip solution with the highest brightness capabilities in the 0.3-inch imager class. This latest DLP offering continues TI's commitment to enabling smaller form factors, superior image quality and high system efficiency for customers designing and integrating pico displays. For more information, visit
www.ti.com/dlp3310
.
With the 0.33-inch chipset, developers can create a myriad of compact, portable display applications, such as mobile smart TVs, battery-operated pico projectors, smart home projection displays, signage and industrial solutions.
Key features and benefits of the 0.33-inch full-HD chipset:
Small form factor 1080p: The fast switching speed of the DMD enables each mirror to display two distinct and unique pixels on screen during every frame. This DLP solution delivers 1080p resolution to the screen along with the industry's highest brightness capability for its size class, enabling a powerful new combination for developers of compact display products.
Crisp images and video: Proven DLP technology delivers high color fidelity (up to 16M colors) for vibrant, beautiful images.
Power efficiency: This latest DLP chipset offers efficiency to meet the growing demand of battery powered devices adding display capability
TI collaborates with the most extensive ecosystem of pico optical engine manufacturers in the industry. This offers developers a path to production-ready optical engines, which helps reduce design time and gets customers' innovative products to market faster. Manufacturers planning to offer an optical module utilizing DLP3310 include Shenzhen Anhua Optoelectronics Technology Co. Ltd, Coretronic Corporation, DigitalOptics Co. Ltd, Ongine Technology, Young Optics, Inc. and others.