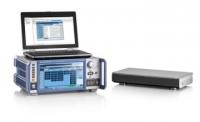 01/03/2017
High dynamic range (HDR) is a spectacular technological advancement that makes the home theater experience more intensive and more realistic. This technology matches the picture's luminance dynamic range to the perception of the human eye. But HDR has also presented technical challenges at every step of the video chain, from capture through post production to the final viewing platform.
"The need for accurate, objective measures of video performance has never been greater," said Harald Ibl, Product Management and Applications at Rohde & Schwarz.
Since the acquisition of SpectraCal, Inc., Portrait Displays is the world leading vendor of video calibration software. SpectraCal's CalMAN software is the video calibration solution chosen by nearly every professional video calibrator, and by most end users in broadcast, production, and post-production. The latest version of CalMAN 2016, Version 5.7.2, released today, offers full support for the Rohde & Schwarz R&S VTC/VTE/VTS family of professional test pattern generators. Rohde & Schwarz is one of the first suppliers to provide test solutions for HDMI 2.0a, supporting the rapid introduction of HDR technology on the market.
With a recently introduced module, the R&S VTC/VTE/VTS family offers data rates of up to 18 Gbit/s as well as functions introduced with the new HDMI standard, such as scrambling. It supports both HDCP 1.4 and HDCP 2.2 and covers realtime protocol testing and compliance testing in line with HDMI CTS 1.4/2.0.
The generator function can be used to edit the Dynamic Range and Mastering InfoFrame specifically for HDR. It displays the enhanced extended display identification data (E-EDID) of the connected sink, including the HDR metadata block. It also permits the playback of customer-specific, uncompressed moving picture sequences. The analyzer unit provides suitable E-EDID and displays the Dynamic Range and Mastering InfoFrame. HDR-CTS tests are available for both the generator and the analyzer.
"We were extremely impressed with the comprehensive capabilities of the R&S R&S VTC/VTE/VTS family," said Portrait's head color scientist and chief software architect Stacey Spears. "And CalMAN 2016 now takes full advantage of all the R&S VTC/VTE/VTS's capabilities."