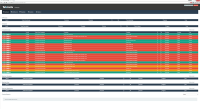 10/25/2016
Tektronix, an industry-leading innovator of video test and monitoring solutions, today announced a series of enhancements to its Aurora automated file-based quality control (QC) solution used by video content creators, post-production houses and content distributors and broadcasters to efficiently test and monitor growing volumes of content.
Leading the way is a first-of-its-kind Perceptual Video Quality (PVQ) measurement -- now part of Aurora -- that accurately provides a summarized quality measurement for file-based content. Other enhancements include support for Aurora on the Amazon Web Services (AWS) cloud and support for the AS-10 PAD Delivery Specification now required in France.
As the broadcast industry moves toward file based delivery of all services and the increased adoption of multi-screen and Over-The-Top (OTT) media services, the amount of video content that must be tested and verified is expanding rapidly. An efficient way to ensure the quality of all that content is to use an automated QC tool. While these tools offer a speed and cost advantage compared to manual QC, it can be challenging for automated tools to filter out errors that actually impact the viewer's experience compared to the ones that don't, leading to false positives.
With this release of Aurora, Tektronix is directly addressing these challenges by incorporating proven PVQ technology from its Sentry family of video network monitors. This provides an accurate measure of quality that's based on years of real-world evaluation and then gives operators a tight correlation between file-based and live stream monitoring technologies. Just like Sentry, Aurora can now analyze video content using a proprietary algorithm designed to detect video compression artifacts affecting the viewer's quality of experience. Aurora also graphically plots video quality using a format similar to a Mean Opinion Score (MOS). A well-known industry metric, MOS provides a numerical indication of the perceived quality from the viewer's perspective.
"Ensuring the quality of file-based content is a never-ending job, particularly as more and more content distributors move to multi-screen and adaptive bit rate (ABR) delivery models," said Charlie Dunn, general manager, Video Product Line, Tektronix. "The new features we've added to Aurora are a major step toward helping our customers stay on top of all that content. There's never been anything like PVQ in an automated tool and we see this as going a long-way toward improving efficiency, lowering costs and ultimately improving quality."
Find more details following this link.