Tektronix Expands Innovative USB-Based Real-Time Spectrum Analyzer Lineup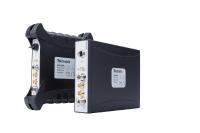 04/12/2016
Tektronix, Inc., a leading worldwide provider of test, measurement and monitoring instrumentation, has expanded its line of disruptive USB-based real-time spectrum analyzers with 4 new higher-performance models targeting design, spectrum management and wireless transmitter installation and maintenance applications. The new RSA500 and RSA600 series of analyzers offer frequency coverage from 9 kHz up to 7.5 GHz with 40 MHz acquisition bandwidth, a measurement dynamic range from -161 dBm/Hz Displayed Average Noise Level, and up to +30 dBm maximum input.
The new USB-based spectrum analyzers embrace the design approach of the very successful 6.2 GHz RSA306 USB-based real-time spectrum analyzer introduced last year, offering even higher instrument performance levels and analysis capabilities in two new compact, affordable packages. The new models take USB-based instruments to the next class of spectrum analyzer performance while adding the versatility of both a line-operated laboratory package and a rugged battery-operated package with a tablet PC option. Both the RSA500 and RSA600 also have an optional tracking generator with an integrated internal bridge for basic device, cable and antenna testing.
Compared to traditional spectrum analyzers, Tektronix USB-based instruments represent an exceptional value with pricing levels that fall about 60 percent of traditional standalone instruments with comparable performance. Through a standard USB 3.0 connection, the instruments are operated from a desktop PC, laptop or tablet using an updated version of the full-featured SignalVu-PC software suite – included at no additional cost – that provides 17 measurements, real-time DPX signal processing, and a range of application-specific add-on modules for in-depth analysis.
"With our family of USB-based spectrum analyzers, we are giving customers a full featured, spectrum analysis solution at a fraction of the price of traditional instruments. All this is made possible by replacing knobs, operations modes, and screens with software and adding ground-breaking technology to get more in a smaller package," said Jim McGillivary, general manager of RF and Component Solutions at Tektronix. "As we've seen with the RSA306, USB-based instrumentation is quickly becoming accepted by mainstream spectrum analyzer users who are finding that the smaller form factor is actually an advantage and that the performance and usability exceeds their expectations. The lower price means that customers can now afford to equip more of their engineers and technicians with the latest instrumentation."
Fine more details here.
---
Related Information: