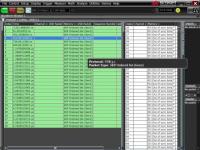 01/29/2016
Keysight Technologies, Inc. introduced the industry's first oscilloscope-based USB 3.1 Gen 2 10 Gbps protocol decode software with real-time triggering and protocol decode performance. The Keysight N8821A USB 3.1 protocol trigger and decode software provides unique protocol decoder performance that enables engineers to verify and debug their Gen 2 10 Gbps interfaces.
Gen 2 introduced 128b/132b encoding, which is significantly more complex than previous versions. The N8821A software allows customers to debug and validate their Gen 2 implementations by allowing them to quickly show protocol decode, search with protocol-level triggers, and use time-correlated views to troubleshoot serial protocol problems back to timing or signal integrity. The software will also work with USB Type-C™ implementations of USB 3.1 Gen 2.
"USB and the Type-C connector continue to draw strong interest from our customers," said Dave Cipriani, vice president and general manager of Keysight's Oscilloscope and Protocol Division. "Our USB 3.1 protocol decode software is another example of Keysight software solutions providing insight so our customers can get their products to market faster."
Additional information about Keysight's new N8821A USB 3.1 protocol trigger and decode software is available at www.keysight.com/find/n8821a. Images are available at www.keysight.com/find/n8821a_images.
About Keysight in Digital Test
Keysight's solutions for digital applications are driven and supported by Keysight experts who are involved in various international standards committees. Keysight experts are active in the Joint Electronic Devices Engineering Council (JEDEC), PCI Special Interest Group (PCI-SIG®), Video Electronics Standards Association (VESA), Serial ATA International Organization (SATA-IO), USB Implementers Forum (USB-IF), Mobile Industry Processor Interface (MIPI™) Alliance, Ethernet standards (IEEE 802.3), Optical Internetworking Forum (OIF) and many others. Keysight is committed to involvement in standards groups and related workshops, plugfests and seminars to ensure the right test solutions are created to meet customers' evolving needs.
About Keysight in Software
Keysight software is downloadable design, test and measurement expertise. From first simulation through first customer shipment, Keysight software tools enable engineering teams to accelerate from data to information to actionable insight. Additional information is available at www.keysight.com/find/software Download free software trials at www.keysight.com/find/free_trials.