Anritsu Introduces High-speed Serial BUS Receiver Test Solution Featuring MP1800A BERT Signal Quality Analyzer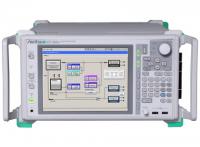 01/05/2016
Anritsu Company announces an integrated test solution featuring its MP1800A BERT Signal Quality Analyzer (SQA) and innovative software by Granite River Labs (GRL) that simplifies calibration so engineers can conduct high-quality reproducible receiver and jitter tolerance tests on high-speed devices. The new solution, which also incorporates a noise signal source, variable ISI channel and real-time oscilloscope, allows highly accurate evaluations to be conducted on next-generation PCIe Gen4, 100GbE, InfiniBand and other high-speed serial interfaces for greater design confidence.
The GRL-PCIE4-BASE-RXA calibration/receiver test software by GRL controls the system to automate calibration of the complex test signal and simplifies jitter tolerance tests for verification of high-speed designs. The software supports one-button jitter tolerance tests for PCIe-Gen4 Rev 0.5 devices, as well as high-reproducibility test-signal calibration and receiver tests. It automatically controls variable ISI channels and calibrates Eye openings to simplify measurement condition settings and test execution. All reports are saved as PDF documents.
Leveraging the GRL software is the MP1800A, which delivers the high performance necessary to test next-generation designs utilizing the latest high-speed technologies. A built-in Pulse Pattern Generator (PPG) generates the highest-quality, highest-amplitude signals in the industry. It has low intrinsic jitter of 275 fs rms (nominal) and offers outputs up to 3.5 Vp-p. An Error Detector (ED) with the highest input sensitivity available is integrated in the MP8100A chassis, as well. The ED offers high input sensitivity of 10 mV and high-speed auto-adjustment of </=1 second. Various jitter types, such as SJ, RJ, BUJ, SSC, can be generated using the built-in jitter modulation source. Wide-amplitude SJ up to 1 UI at a jitter frequency of 250 MHz is generated by the source, ensuring sufficient margin for receiver jitter tolerance tests.