Advantest U3841, U3851 and U3872 cross domain spectrum analyzers expand Rohde & Schwarz portfolio
10/28/2011
The Advantest spectrum analyzers offer a variety of applications, including propagation measurements, electromagnetic field radiation, interference monitoring and measurements, satellite signal monitoring and phased array antenna measurements.
Rohde & Schwarz will showcase the Advantest U3841, U3851 and U3872 cross domain spectrum analyzers at productronica 2011 in Munich from November 15 to 18.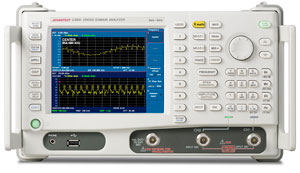 These instruments offer frequency, magnitude, time and phase measurements covering 3 GHz, 8 GHz and 43 GHz. Two channels, integrated as standard, enable phase-coherent RF measurements using a single instrument.
The analyzers can implement cross domain, cross channel and cross vector mathematics in a single box. This functionality allows quick and easy detection and analysis of electromagnetic interferences of two unknown but correlated radio wave signals. It can measure the phase difference between two signals.
In multiplexed, mixed or interfered signal analysis, the analyzers can be used in a wide range of applications, such as wireless communications, broadcasting and EMC. Rohde & Schwarz will distribute the new cross domain spectrum analyzer models from Advantest through representatives in selected countries.
Rohde & Schwarz, www.rohde-schwarz.com.
---
Related Information: