AKTAKOM APS-3103L programmable DC power supply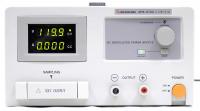 03/02/2020
AKTAKOM APS-3103L is a programmable power supply with adjustable current limit. This model is equipped with a large display showing voltage and current readings. Push button switch allows connection and removal of load. Front panel of APS-3103L has banana output and terminal strip. One of the power supply features is 5mV RMS ripple.
There is a four-wire (4-wire) connection scheme used. This connection method provides accurate voltage supply preset in the load. This leads to the compensation of the wire resistance connecting the power supply and the load that is especially important in the industrial application of the power supply.
There is a single channel, output regulated voltage of 0…120 V, output current of 0…3 A.
Functionality and affordable price allows using APS-3103L power supply for repair department, research laboratories and manufacturing. AKTAKOM APS-3103L power supply can be controlled both from the front panel and remotely via USB or LAN.
Moreover AKTAKOM APS-3103L programmable DC power supply differs from other similar power supplies by wide capabilities of local and remote control through AKTAKOM Power Manager software.
Check APS-3103L user manual before purchasing since it's available on the power supply web site.
---
Related Information:
Deals - Special offers
Design. Engineering. Value. Interest. Creativity. Encyclopedia.