New free and useful AKTAKOM software!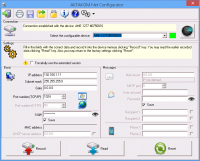 02/14/2018
Herewith we are glad to inform of new AKTAKOM software compatible with a wide range of AKTAKOM measuring devices, namely with several models of remote controlled DC power supplies, crosspoint switches and USB PC-based oscilloscopes.
AKTAKOM Net Configurator (ANC) is designed to record and read the network settings data of AKTAKOM Universal Lab devices (supporting AULNet protocol). The application provides simple and convenient user interface to work with settings, they can be recorded into the file and read afterwards. User may print the device network settings as well.
The main program window contains several blocks and buttons:
"Connection" block contains elements for searching and connecting to the configurable device.
"Settings" block contains the fields that specify the basic network settings of the device and the settings of its messages.
Basic settings
IP-address, Subnet mask, Gateway – Device network credentials.
Port number (TCP/IP) – Specify the port number required to establish the connection of the device with the controlling software.
Port number (HTTP) - Specify the port number required to connect to the device with Internet browser.
Login - The name specified in the network connection settings of the controlling software.
MAC Address - MAC address of the device network card.
DHCP server address - Specified if it's necessary to receive addresses automatically.
On page of AKTAKOM Net Configurator (ANC) you may see the detailed list of those devices the software is compatible with, the list of supported OS. Moreover this software is available for download for free! Therefore the product registration is required.
Find more details here.
---
Related Information:
Deals - Special offers
Design. Engineering. Value. Interest. Creativity. Encyclopedia.