Measurement capabilities of AKTAKOM ACM-2031 clamp meter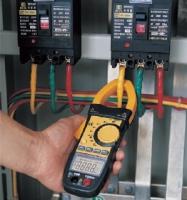 11/13/2017
AKTAKOM ACM-2031 clamp meter is designed for non-contact AC/DC current measurement as well as AC/DC voltage, resistance and other types of measurement.
ACM-2031 model has multimeter functions (electrical resistance, capacitance and temperature measurement) and it is remarkable for its high accuracy and reliability. You will find ACM-2031 indispensible for diagnostics of engines and other equipment.
Due to its compact dimensions and the light weight ACM-2031 allows holding it in one hand and you may easily see the measurement results on a large bright LCD which is extremely important and convenient when working in hard-to-reach places.
On page of AKTAKON ACM-2031 clamp meter you will find the detailed instructions on different measurement processes. Therefore go to the model page and follow Application tab. AC/DC voltage, current, resistance and capacitance measurement processes are all provided for your convenience and use.
Check AKTAKOM ACM-2031 clamp meter page for more instructions, pictures and detailed specifications including accuracy tables.
---
Related Information:
Industry news
Deals - Special offers
Design. Engineering. Value. Interest. Creativity. Encyclopedia.