Aktakom AM-1019 multimeter. 0.03% (!) accuracy and excellent functionality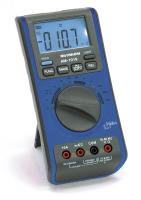 08/07/2017
Aktakom AM-1019 represents 5-in-1 device. On the one hand it is a digital multimeter, at the same time it also measures the illumination, noise level, humidity. The quality and variety of additional options performed in Aktakom AM-1009 allows you to choose the device suitable for your work.
This model is capable of taking the following measurements: constant voltage (0,1mV ... 600V) and alternating current (0,1mV ... 700V, 40 ... 400Hz) voltage, constant and alternating current (0,1mA ... 10A, 40 ... 400Hz), resistance (0,1Ohm ... 40MΩ), capacitance (1pF ... 200μF), frequency (0.001Hz ... 200kHz), temperature (-20 ... + 1000 ° C), humidity (30 ... 90%), noise level (35 ... 100 dB) and illumination (4000/40000 lux).
AM-1019 is highly appreciated by specialists since it solves a wide range of professional tasks.
Among other features:
Display: 3999 counts
Measurements: luminosity, sound level, humidity
Auto range
Data hold
Relative measurements
Diode test, continuity test
Backlit display
Auto power off
The page of Aktakom AM-1019 contains the detailed information about its application spheres, answers for the frequently asked questions and additional pictures
---
Related Information:
Industry news
Deals - Special offers
Design. Engineering. Value. Interest. Creativity. Encyclopedia.