Aktakom represents new high precision AMM-1149 multimeter AMM-1149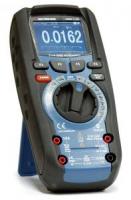 07/03/2017
High precision TrueRMS multimeter (basic error: 0.1%) Aktakom AMM-1149 has various service modes and functions which allow it to take different types of measurements. High speed graphic scale allows user to observe the changing dynamics of the value under measurement. This multimeter has a wide accessories range and a soft case for the most convenient use.
AMM-1149 multimeter is capable of taking the following measurement: DC voltage (0.01 mV…1000 V); AC voltage (0.01 mV…1000 V); DC (0.01 µA…10 A); AC (0.01 µA…10 A); resistance (0.01 Ω…50 MΩ), capacity (0.1 pF… 5 mF); frequency (0.001 Hz…10 MHz); temperature (-328°F…2462°F / -200°C…1350°C); continuity testing.
Among other features:
41/2 digit LCD (50000), backlight
Graphical scale
Input impedance when measuring DC/AC voltage: >10 MOhm
Working frequency when measuring AC voltage: from 50 to 20000 Hz
Relative measurements
Measurement of current loop
Duty factor measurement
Measurement of pulse signal frequency
Data hold function
Min./Max. values
Overload protection at all ranges
Auto or manual selection of ranges
Auto indication of the polarity
Low battery indication
CAT III 600V; CAT II 1000V
Dimensions: 7.01 x 3.2 x 2 in / 178 x 80 x 50 mm
Weight: 14.11 oz / 400 g
On the page of Aktakom AMM-1149 multimeter you will find the detailed description, accuracy tables, additional pictures, fields of application and the answers for the frequently asked questions.
---
Related Information:
Industry news
Deals - Special offers
Design. Engineering. Value. Interest. Creativity. Encyclopedia.