Aktakom AEL-8321 programmable electronic load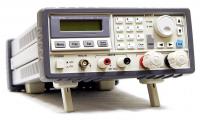 09/07/2020
Aktakom AEL-8321 programmable electronic load is designed to imitate various load operation modes when testing the power supplies of wireless devices with up to 80 V voltage, current of up to 40 A and the power of 400 W.
AEL-8321 is capable of operating in different modes (stabilization of current, voltage or resistance). The combination of high functionality and remote control feature makes this model be a high performance tester of electric power sources.
Main features of AEL-8321
LCD with a backlight
ADC: 24 bit, DAC: 17 bit
Load operation modes: load voltage stabilization, load current stabilization, resistance stabilization, power stabilization (limitation)
Auto calibration
Protection: current, voltage, power, overheat, wrong polarity connection
Battery test
External triggering support
Short-circuit mode
RS-232 and SCPI commands control
LabView support.
Much more details are available on the page of Aktakom AEL-8321 programmable electronic load.
---
Related Information:
Industry news
Deals - Special offers
Design. Engineering. Value. Interest. Creativity. Encyclopedia.