The best cost effective solution! AKTAKOM ESD-Safe Temperature Controlled Soldering Station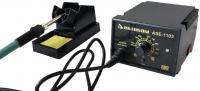 08/15/2022
AKTAKOM ASE-1105 soldering station is ESD-safe. Soldering iron of this model is very light-weighted that will make your work maximum convenient. The heating element used is made of high test material with advanced technology that can guarantee its long life. The other parameters of ASE-1105 include:
Power consumption: 60W
Output voltage: AC 24V
Temperature range: 392 to 896°F / 200 to 480°C
But the most special about ASE-1105 is its very low cost – $29.00 only! That makes it the best cost effective solution for schools, colleges and other educational institutions.
See what other advantages AKTAKOM ASE-1105 ESD has by following this link.
---
Related Information:
Industry news
Deals - Special offers
Design. Engineering. Value. Interest. Creativity. Encyclopedia.