New AKTAKOM APS-1602LS DC Power Supply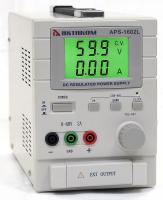 05/09/2016
Our Online store keeps on including new models of measuring devices. We are glad to introduce a new model of DC power supply – AKTAKOM APS-1602LS.
APS-1602LS is designed to supply radio equipment with stabilized voltage or current when operating in debugging process and repair. This single channel DC remote controlled programmable power supply with adjustable current limit can be used in service centers and research laboratories.
There is a four-wire (4-wire) connection scheme used. This connection method provides accurate voltage supply preset in the load. This leads to the compensation of the wire resistance connecting the power supply and the load that is especially important in the industrial application of the power supply.
AKTAKOM APS-1602LS DC power supply is capable of operating with AKTAKOM Power Manager software. APM Software provides a wide range of control capabilities of output voltage and stabilization current both in manual and functional modes. Functional control is a very powerful tool of APM software which allows you not only to control your AKTAKOM power supply automatically by computer but also to program its off-line operation mode by prespecified algorithm.
Much more information is available on the page of AKTAKOM APS-1602LS.
---
Related Information:
Deals - Special offers
Design. Engineering. Value. Interest. Creativity. Encyclopedia.