New ATH-3335 power supply from AKTAKOM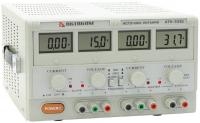 11/16/2015
Our range of AKTAKOM power supplies is very wide. At the moment we are ready to introduce one more new model – AKTAKOM ATH-3335.
ATH-3335 is an inexpensive power supply which outputs smoothly regulated stabilized DC voltage up to 30 V and stabilized current of up to 5 A. The device is equipped with four 3 digit LCDs as well as the indicator of current and voltage stabilization modes.
Number of channels: 3
Output voltage (channel 1 and 2): 0...30 V x 2
Output current (channel 1 and 2): 0…5A x 2
Output voltage/current (channel 3): 5V / 3A
Inaccuracy of output voltage setting: 1%Uset+2 emp
Inaccuracy of output current setting: 2%Iset+2 emp
Voltage ripple and noise, RMS (typical): 1mV
Current ripple and noise, RMS (typical): 2mA
Power supply: 110V/220V
Dimensions and weight (in the package): 8.5 x 15 x 17 in / 220 x 380 x 430 mm; 23.2 lb / 10.5 kg
AKTAKOM ATH-3335 power supply successfully replaces well-known APS-3205 model.
More details are available on ATH-3335 page.
---
Related Information:
Deals - Special offers
Design. Engineering. Value. Interest. Creativity. Encyclopedia.