New AKTAKOM APS-5310 power supply!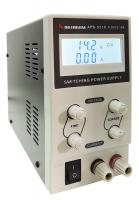 08/24/2015
Model range of AKTAKOM power supplies includes now a new low-cost model – APS-5310.
The present model is developed with the same housing and form factor as popular AKTAKOM APS-5305 switching power supply. These devices are designed for supplying radio equipment with stabilized voltage or current when operating in debugging processes, repair or during laboratory research. One channel of new APS-5310 has a capability to smoothly adjust the voltage at the range of 0 to 30 V and the current from 0 to 10 A (APS-5305: 0 to 5 A).
Both power supply models have fine and coarse rotary switches capable of changing parameters with 100 mV/10 mA step. Setting accuracy of output voltage and current is rather high – 1% only.
Comparing to other devices made in accordance to linear stabilizer circuit APS-5310 and APS-5305 switching power supplies are more light-weighted (about only 3.5lb) and compact (dimensions: 3.3 x 6.3 x 8.1 in) which allow using them in terms of limited working area.
Similar to APS-5305 AKTAKOM APS-5310 uses two-line 3-digit LCD with backlight. It's capable of simultaneous displaying of set voltage and current values as well as the selected stabilization mode (current or voltage).
To protect these power supplies from overheat their rear panel is equipped with a low-noise cooling fan.
---
Related Information:
Deals - Special offers
Design. Engineering. Value. Interest. Creativity. Encyclopedia.