New power supply model – AKTAKOM APS-1915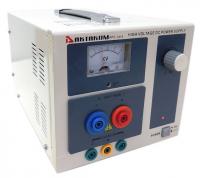 07/06/2015
There is some updating in our Online store in Power supply product range. AKTAKOM APS-1915, our new model, has replenished the catalogue.
AKTAKOM APS-1915 is a high voltage DC regulated power supply, with continuously adjustable voltage output from 0 to Max.5kV DC. APS-1915 also has a fixed AC output 6.3V AC/ 3A (optional).
The main features are as follows:
Input voltage: 220V AC ~ 240V AC 10%/50Hz
Output voltage: 0 ~5000V/6.3V
Output current: 10mA/3A
To find more details click here.
---
Related Information:
Deals - Special offers
Design. Engineering. Value. Interest. Creativity. Encyclopedia.