Welcome to attend SEMICON West 2022 this summer!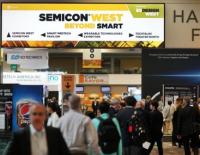 04/11/2022
Hybrid SEMICON West 2022 connects the entire extended electronics supply chain – in one place, at one time. This year it will be held on July 12-14, 2022 in San Francisco.
SEMICON is the smart way to re-connect with your contacts, customers, partners, plus drive your business forward.
Who should attend? Business and technology leaders, researchers, and industry analysts from across the microelectronics supply chain, including:
Assembly & Test
Components
Design
Fabless
Flexible Hybrid Electronics (FHE)
IC Device Applications
IoT and Consumer Electronics Manufacturers
Manufacturing Equipment
Materials
Micro-Electromechanical System (MEMS)
Packaging
Sensors
Systems Integrators
Business Managers
College/Graduate Students
Engineers
Environment, Health & Safety (EH&S)
Executives
Field Services
Managers
Marketing & Sales
Quality Assurance/Quality Control (QA/QC)
Scientists
Supply Chain
Technicians
Get more information on the event official site.