Rohde & Schwarz sponsors HORYZN and LEVITUM student initiatives with test equipment for drone development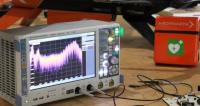 08/15/2023
The drones will be used in rescue operations or to complete long-distance journeys with the help of fuel cells. Rohde & Schwarz provides its latest generation of R&S MXO 4 oscilloscopes for control electronics testing, plus accessories and training.
HORYZN seeks to apply the theoretical knowledge gained during degree studies to the development of unmanned aerial vehicles capable of electric vertical takeoff and landing (eVTOL). As an international and interdisciplinary team, the students work on innovative solutions to real-world problems. During their first project, they developed and designed the largest eVTOL UAV in the history of TU Munich. In their next project, they will trial UAVs in a medical use case – the transportation of defibrillators. This will also stimulate public debate about the deployment of civilian UAVs.
The LEVITUM initiative is working on a hydrogen-powered eVTOL drone capable of traveling over 300 km without refueling. The team uses ultramodern fuel cell systems and state-of-the-art type IV pressurized tanks to develop the "Mercurius" prototype – the world's longest-range UAV with less than a 25 kg takeoff weight that outperforms any commercially available drone. Minimal refueling and lower overall costs are other factors here.
www.rohde-schwarz.com
---
Related Information: