Anritsu Company Introduces Economical Field Master™ Handheld Spectrum Analyzer for General-Purpose RF Testing Applications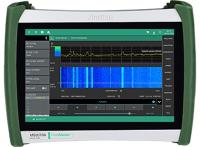 02/10/2023
Anritsu Company introduces the Field Master™ MS2070A handheld spectrum analyzers that provide the performance and field-proven durable platform of Anritsu's Field Master family at an economical price. Providing necessary features and performance up to 3 GHz, the MS2070A conducts reliable and accurate RF measurements in a variety of general-purpose field, lab, and manufacturing environments.
With dynamic range of >105 dB at 2.4 GHz , typical DANL with a built-in optional preamplifier of -167dBm, coupled with a Third Order Intercept (TOI) of +11 dBm, and typical level accuracy of ±0.5 dB enable a full range of signals to be analyzed by the handheld spectrum analyzer.
The MS2070A is designed for standard swept spectrum analysis up to 3 GHz. It features sweep speeds of up to 32 GHz/s in common low noise configurations. A number of "smart" measurements, including occupied bandwidth (OBW), channel power, and adjacent channel power (ACP), are standard in the Field Master MS2070A.
www.anritsu.com