TI enables automakers to take full advantage of EV range with the industry's most accurate battery cell and pack monitors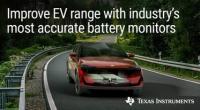 01/20/2023
Texas Instruments (TI) introduced new automotive battery cell and pack monitors with the most accurate measurement capability available on the market, maximizing electric vehicle (EV) drive time and enabling safer operation.

As EVs grow in popularity, advanced battery management systems (BMS) are helping overcome critical barriers to widespread adoption. With a focus on solving complex system design challenges, TI provides the most advanced, comprehensive portfolio of BMS devices, enabling automakers to create a safer, more reliable driving experience and accelerate EV adoption.

The BQ79718-Q1 battery cell monitor and BQ79731-Q1 battery pack monitor are the newest products in TI's comprehensive BMS offering. The BQ79731-Q1 and BQ79718-Q1 devices provide an unprecedented level of accuracy and precision in measuring battery voltage, current and temperature to effectively determine the true range of a vehicle and increase the overall life and safety of the battery pack.