New MCU portfolio redefines microcontroller performance, enabling 10 times higher processing capability than existing devices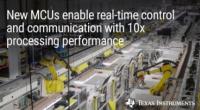 10/22/2021
Texas Instruments (TI) introduced a new high-performance microcontroller (MCU) portfolio that advances real-time control, networking and analytics applications at the edge.
With new Sitara AM2x MCUs, engineers can achieve 10 times the computing capability of traditional, flash-based MCUs. This high-performance portfolio closes the growing gap between today's MCUs and processors, enabling designers to push the limits in applications such as factory automation, robotics, automotive systems and sustainable energy management.
The AM243x MCUs, the first family of devices available in the AM2x portfolio, feature up to four Arm Cortex®-R5F cores, each running up to 800 MHz. This high processing speed is critical in factory equipment such as robotics, where fast computations coupled with the MCU's internal memory enhance a robot's precision of motion and speed of movement, translating to higher productivity. The additional processing capability enables designers to add analytics for functions such as predictive maintenance, reducing downtime on factory floors. In typical applications, AM243x devices can achieve this level of performance while consuming less than 1 W of active power, enabling factory operators to extend their power resources, lowering both their operating costs and energy footprint.
www.ti.com