Rohde & Schwarz brings seamless Ultra HD convenience to R&S®VENICE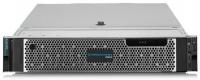 08/13/2021
Rohde & Schwarz, a global leader in broadcast media technologies, has extended the functionality of its R&S®VENICE platform for live studio production. In particular, it has moved to support 4k Ultra HD signals, using either 12G or 2SI formats.
VENICE is a high-performance, high-resilience media platform designed to manage complex signal processing and storage requirements, particularly in live studio production applications. It provides uninterrupted operations including scheduled recording, clip transforms and playouts, across a network of processors and both R&S storage and third-party qualified storage sub-systems. It also bridges the SDI and IP environments. VENICE servers can now be configured for multiple HD and Ultra HD signals, and units can work together as a single resource from a single user interface.
The high bandwidth of Ultra HD signal demands special handling, beyond the traditional 3G environment. Ultra HD infrastructures today are typically built around either 12G – a single, very high bandwidth connection which has some technical limitations – or 2SI, which spreads the signal pixel by pixel across four conventional SDI cables. 2SI also provides a degree of resilience, as the loss of one channel simply means a drop in resolution, not a complete loss of all or part of the picture.
The Rohde & Schwarz VENICE media platform now supports both 12G and 2SI, enabling it to fit comfortably into any environment. Because each VENICE processor is software defined, a channel can easily switch between an Ultra HD signal and HD signals. With VENICE sharing resources across a network from a single management user interface, it means resources can be allocated for maximum efficiency and utilisation.
---
Related Information: