Anritsu launches new modules to make production line testing more efficient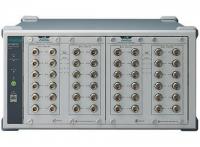 05/07/2021
Anritsu Corporation is pleased to announce the simultaneous launch of its TRX Test Module MU887002A, designed to improve the efficiency of production-line inspection of wireless communications devices, including 5G, and its space-saving Universal Wireless Test Set MT8872A.
With 24 RF connectors, the newly developed TRX Test Module MU887002A is a TRX module for installation in the MT8870A and MT8872A. It supports 5G Sub-6 GHz New Radio (NR) RF tests, as well as various other simultaneous wireless communications tests, including WLAN, Bluetooth®, and Global Navigation Satellite System (GNSS). As such, this makes the inspection of wireless communications devices on the production line much more efficient.
The MT8872A is a measuring instrument designed for use in mass production and is fully compatible with the MT8870A. Its small footprint is designed to be used in narrower spaces than the standard 19" rackmount, saving space on crowded production lines. Designed to meet the needs of manufacturers of chipsets, smartphones, wireless modules and other wireless products, Anritsu expects the new MU887002A and MT8872A solutions to save space and cut costs on production lines for wireless communication devices.
www.anritsu.com