Yokogawa Test & Measurement releases the IS8000 integrated measurement software platform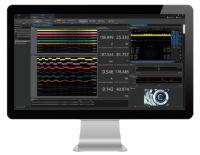 04/27/2021
Yokogawa Test & Measurement Corporation announces that it has developed the IS8000 integrated measurement software platform for the control of and the collection of data and generation of reports from multiple measuring instruments.
The IS8000 software combines the functions of software that had previously been provided for individual measuring instruments and is able to provide total support for all measurement tasks, from the connection of instruments to the creation of reports, thus helping to improve product development efficiency. As well as enabling the operation of and collection of data from Yokogawa measuring instruments, it also supports connection to devices such as high-speed cameras from other companies. This makes it possible to integrate, synchronize, and time stamp the data collected from multiple devices.
This software can aid in the development of motors, inverters, and other types of equipment by synchronizing the measurement data from power analyzers with the multichannel analog measurement signal data from a high-speed data logger.