Yokogawa Test & Measurement releases DL950 ScopeCorder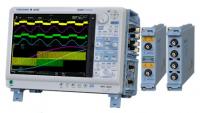 03/30/2021
Yokogawa Test & Measurement Corporation announced the release of DL950 ScopeCorder, a high-precision data acquisition system, and two compatible input modules.
The DL950 is the successor to the DL850 and DL850V ScopeCorder series that were released in 2010, and features a number of enhancements that improve both functionality and operability. In addition, two new input modules are being released for the DL950; these are the 720212, which is capable of reading data at 200 mega-samples per second (MS/s), and the 720256, which can read data from four input channels at 10 MS/s. By the fall of this year, Yokogawa will also release an optional flash acquisition function for the storage of high-sampling-rate data in embedded non-volatile memory.
As the high-end model in the ScopeCorder series, which includes the DL350 portable model and the system-specialized SL1000, the DL950 will help to improve the efficiency of new product development in the automobile, mechatronics, and electronics industries. Yokogawa will offer the DL950 together with other products such as oscilloscopes and power analyzers to provide total solutions that help reduce power consumption and improve power conversion efficiency in customer's products.
www.yokogawa.com