Keysight Technologies expands automotive portfolio with new radar multi-target simulator and advanced automotive Ethernet solutions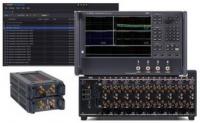 10/27/2020
Keysight Technologies, Inc. has added two new test solutions to its growing automotive portfolio - Radar Target Simulator and Advanced Automotive Ethernet software – which help automotive industry engineers, designers and manufacturers develop high-quality, high-performance products that improve safety in any driving conditions and enable emerging advanced driver assistance systems (ADAS).
Rapid developments in autonomous vehicles and demand for greater safety features is fueling the need for sensitive and accurate automotive radar technology. Leveraging its expertise in radar test technology, Keysight now offers a new Radar Target Simulator (RTS) to help automotive electronics manufacturers confidently simulate radar targets in various realistic scenarios.
Keysight's new RTS performs multi-target, multi-angle testing for radar modules in a lab environment. The solution delivers fast, accurate and reliable results that balance throughput and quality. Design and verification engineers can quickly validate the performance of radar products, while manufacturing and design validation engineers are able to simulate multiple objects at variable distances. By allowing users to bring a real-world test environment into their lab, Keysight's RTS delivers substantial time and cost savings.
www.keysight.com
---
Related Information: