R&S®PRISMON delivers key Insights for PBS cloud evaluation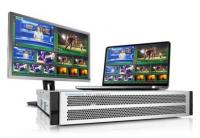 07/10/2020
The R&S®PRISMON audio/video monitoring and analysis solution for broadcast and streaming signals has played a central role in a PBS project to evaluate the viability of transitioning master control and playout to the cloud.
Working with Media Technology Consultant Peter Wharton, President of Washington, D.C.-based Happy Robotz, PBS launched the evaluation about two years ago and recently wrapped up its effort.
"The Rohde & Schwarz PRISMON was critical. It addressed a range of issues that one experiences with cloud playout and delivery systems that are new to our industry," said Wharton.
The R&S®PRISMON, a software-based solution for monitoring and analyzing audio and video content in real time, supports a wide variety of content transport standards and media formats, including those used in IP-based deployments and legacy signal environments.
It offers broadcasters and media service providers a single platform for monitoring, analyzing and viewing multiple signals and provides support of compressed streams transmitted via IP multicast transport streams (SMPTE ST 2022-1 and -2) or OTT transmission standards like HLS, MSS, DASH. R&S PRISMON can also visualize, monitor and analyze uncompressed streams based on the new 2022-6 and 2110 standards, including SMPTE ST 2022-7 and SMPTE ST 2110-20, -30 and -40.
---
Related Information: