Anritsu portable MT1040A tester for 400G networks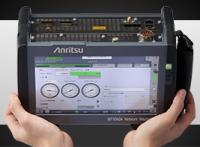 07/07/2020
Anritsu Corporation President Hirokazu Hamada is pleased to announce the approaching commercial release of its Network Master Pro MT1040A for evaluating 400G networks.
400G Ethernet has been used mainly in data centers, but the recent rapid growth in data traffic driven by the rollout of 5G commercial services and expected future appearance of self-driving vehicles is seeing deployment of 400G Ethernet at non-data-center locations. Since the MT1040A is a compact battery-driven 400G measuring instrument with directly inserted QSFP-DD or OSFP measurement modules, one unit supports not only 400G tests but also 10M~100G Ethernet, OTN, eCPRI/CPRI, SDH/SONET, and Fibre Channel onsite measurements.
Additionally, it can be combined with an optional OTDR module for fiber line maintenance, as well as with a GPS module for remote measurements using GPS. The integrated auto-test functions help operators perform identical tests to obtain quantitative test results, helping improve onsite work efficiency.
More details are available here.