Anritsu introduces industry-first PCI Express® 5.0 receiver test solution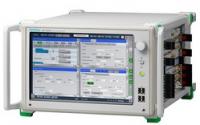 04/21/2020
Anritsu Company introduces PCIe Gen5 (PCIe 5.0) Link Training and Tx/Rx LEQ Test Automation software for its Signal Quality Analyzer-R MP1900A series BERT that creates the industry's first measurement solution supporting the PCIe 3.0, 4.0 and 5.0 standards. With the new options, high-speed server, computer, and communications equipment engineers have a single solution to conduct PCIe 5.0 receiver tests, as well as legacy PCIe technologies to ensure PCI-SIG compliance.
The PCIe Gen 5 Link Training MX183000A-PL025 and PCIe 5.0 Tx/Rx LEQ Test Automation software have already been certified by PCI-SIG for use with the MP1900A as a PCIe 3.0/4.0 Tx/Rx LEQ Test measurement platform. With this added support for PCIe 5.0 Tx/Rx LEQ tests, the system is the industry's first PCI-SIG measurement solution covering PCIe 3.0, 4.0, and 5.0.
The new MP1900A system addresses the PCI-SIG stipulation that PCIe 5.0 designs must assure compatible connectivity and conform to the CEM standard, as well as planned compliance tests. Anritsu is offering the Card Electromechanical (CEM) Specification Rx test system supporting Tx/Rx LEQ tests to help customers speed up the time-to-market of their PCIe 5.0 products. It continues Anritsu's PCIe test leadership, which also includes its Base Specification Rx test system for PCIe 5.0 early development stage IP and device testing.
More details are available here.