5G Site Testing Solution from Rohde & Schwarz bundles test tools for gNodeB site acceptance and troubleshooting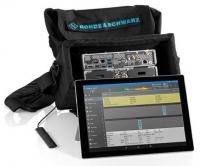 03/06/2020
Site acceptance and troubleshooting of each new cell site must test new capabilities, such as beamforming and 5G/LTE dual connectivity, to verify the correct installation and performance and to ensure that the required quality of service (QoS) is delivered to end users. With the 5G Site Testing Solution from Rohde & Schwarz, network field service engineers gain a powerful test toolkit to accelerate the process of site acceptance and troubleshooting new cell sites.
The 5G STS comprises the R&S TSMA6 receiver plus the R&S TSME30DC downconverter, the handheld network troubleshooter QualiPoc Android, and the R&S Cable Rider ZPH analyzer.
At the core of the solution is the R&S TSMA6 autonomous receiver that uses Automatic Channel Detection (ACD) to show all LTE and 5G signals, identify channel frequency and decode the PCI/SSBs information in order to provide quality analysis of the signal.
For more details follow this link.
www.rohde-schwarz.com
---
Related Information: