Yokogawa releases CA500 and CA550 multifunction process calibrators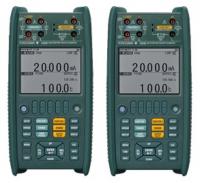 03/20/2020
Yokogawa Test & Measurement Corporation announces the release of two new multifunction process calibrators that can generate and measure signals with the highest class of accuracy. The CA500 and CA550 multifunction process calibrators are intended for use in the inspection and calibration of plant instruments.
The main features of new calibrators:
All-in-one calibrator with highly accurate signal generation/measurement:
The CA500 and CA550 feature improved signal generation and measurement accuracy, expanding the range of devices that can be inspected with these calibrators. A single CA500 series calibrator can do inspection tasks that have required special measuring instruments such as a decade resistance box, thus reducing the number of devices that must be taken to the work site.
Workability improvement at outdoor work sites:
The CA500 and CA550 employ a reflective LCD display that is easy to read in direct sunlight. The volume of information displayed on the screen has also been increased so that workers can learn all they need to know at a glance. And thanks to an energy saving design, each of these new models can now operate continuously for up to 16 hours on just 4 AA alkaline batteries. (The previous model required 6 batteries for 8 hours of use.) The CA500 and CA550 are thus well suited for use at outdoor work sites where no power sources are readily available.
Reduction of man-hours for calibration work:
The CA550 has a program sweep (automatic I/O testing) function that eliminates the need to manually adjust generated values, record measurement results, and enter data on a PC. This function automatically generates and measures signals according to preset generation patterns and displays not only the calibration value and pass/fail results, but all other necessary information on the screen, and automatically saves that data to internal memory.