Anritsu will participate in Mobile World Congress 2020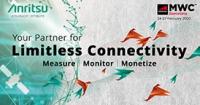 02/14/2020
Anritsu Corporation, is at the leading edge of 5G development and deployment, providing testing and monitoring solutions across the telecoms eco-system and different industry verticals related to 5G. Its test and measurement solutions cover the full range of devices, base-station and access networks, data centres and core networks, and across the full life cycle of R&D, certification, production, and installation/maintenance. The monitoring solutions for mobile networks give enhanced visibility across domains, with advanced analytics and insights into network performance.
During the conference, Anritsu will highlight the key test and monitoring solutions for 5G device and application testing, Conformance Testing, C-V2X, Field Installation and Testing, C-RAN deployment, Advanced Analytics and Telco Cloud Support.
Test and Measurement:
C-V2X solutions - Anritsu 5G V2X solution together with dSPACE, for vehicle to network testing using Hardware in the Loop (HIL) vehicle simulation technology.
SmartStudio NR - the industry-first state machine base GUI to simulate 5G-NR mobile network, for fast and effective 5G device testing and verification.
Industry verticals application test bed - latest MT8000A 5G network simulator for 5G device/chipset R&D testing is integrated with Mobile Edge Compute (MEC) applications server and providing network slicing capability, to enable testing of application environments for new industry verticals.
5G Conformance Test - the evolution of the ME7873x and ME7834x Anritsu conformance test systems. The ME7873NR supports RF, Performance and radio resource management (RRM) conformance testing of 5G NR non-standalone and standalone devices for both sub-6 GHz and mmWave. The ME7834NR systems support protocol conformance testing of 5G NR non-standalone and standalone devices for both sub-6 GHz and mmWave.
MS2090A Field Master Pro – The leading 5G NR field measurement tool, featuring both advanced 5G demodulation/analysis functions and Real Time Spectrum Analyser.
MT1000A Network Master Pro - a portable easy to use test solution with 10G, 25G and 100G interfaces which accurately measures and analyzes critical network performance parameters. These include PTP, timing accuracy and latency, which allows 5G operators to ensure URLLC performance and be confident in the end-to-end quality of service.
Read about Mobile World Congress 2020.
www.anritsu.com