Anritsu Adds PTC ACSES Measurement Capability to LMR Master™ S412E Field Analyzer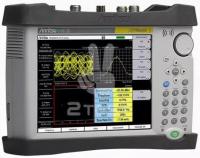 09/17/2019
Anritsu Company has enhanced its LMR Master™ S412E Land Mobile Radio Modulation Analyzer with Positive Train Control (PTC) Advanced Civil Speed Enforcement System (ACSES) capability. The new measurement capability expands the S412E's industry-leading PTC testing suite and provides field engineers and technicians with a handheld solution to test and verify PTC ACSES systems.
The PTC ACSES capability on the LMR Master S412E leverages PTC parameters from its existing and field-proven PTC measurement solution to validate functionality of the communications system. It consists of three main testing components:
Over-The-Air (OTA) – The S412E is now the first PTC ACSES analyzer that can decode OTA PTC ACSES messages to verify communication manager functionality. Additionally, it can conduct key measurements, including bit error rate (BER) and packet error rate (PER).
Receiver – Base station/wayside receive sensitivity performance of PTC ACSES systems can be verified with the S412E.
Coverage – Rail operators can test received signal strength indicator (RSSI), BER, and error vector magnitude (EVM) to verify the coverage area of a PTC ACSES system.
With the new capability, the LMR Master S412E addresses the testing requirements to verify PTS ACSES, a key component for passenger train safety. It establishes the LMR Master S412E as a full feature PTC ACSES field test solution for the passenger railway market and expands Anritsu's industry leading PTC measurement tool portfolio.