Anritsu Introduces 5G NR Signal Generation Software for MG3710A and MS269xA Series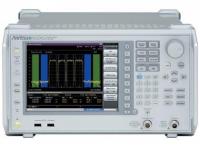 11/27/2018
Anritsu Company introduces two 5G New Radio (NR) TDD sub-6 GHz IQproducer™ software packages for its Vector Signal Generator MG3710A and Signal Analyzer MS2690A/MS2691A/MS2692A series with a vector signal generator installed. The new software provides engineers developing and manufacturing 5G NR mobiles terminals and wireless communications equipment with a solution that speeds time-to-market and lowers test costs.
The software addresses the market need for test solutions that can accurately verify 5G NR chipsets, modules, and systems, as well as legacy 4G LTE products. With the new software, the Vector Signal Generator MG3710A and Signal Analyzer MS2690A/MS2691A/MS2692A series can support output of 5G NR signals. Both packages generate 3GPP-defined 5G NR waveform files for outputting uplink and downlink signals by setting key parameters, such as component carriers (CC, 100 MHz max.) and sub-carrier interval.
Engineers can easily conduct key 5G NR measurements when the new software is installed in the test solutions. The advanced graphical user interface (GUI) of the MG3710A and MS2690A/MS2691A/MS2692A instruments allow measurements to be made on screen via an intuitive menu. The software can also be loaded onto a PC to create waveform files without a measuring instrument. Current users of the Vector Signal Generator MG3710A and Signal Analyzer MS2690A/MS2691A/MS2692A with the signal generator options easily install the new software to control capital equipment costs.
The Vector Signal Generator MG3710A is a best-of-class, multi-function signal generator with excellent RF and baseband performance. It features wideband vector modulation and built-in baseband waveform generation with a large-capacity memory to ensure maximum versatility. Dual RF and dual waveform options enable a single MG3710A to output up to four independently modulated signals. Complex test scenarios that normally require multiple synchronized signal generators are eliminated with the MG3710A, which simplifies equipment setup and calibration, streamlines system operations and speeds measurement times.
The Signal Analyzer MS269xA series consists of signal analyzers for next-generation communication applications in R&D and manufacturing environments. The MS269xA series supports a standard analysis bandwidth of 31.25 MHz that can be extended to 62.5 MHz /125 MHz with optional hardware. Using a patented calibration process, the multipoint amplitude calibration and phase calibration result in best-in-class level accuracy of ±0.5 dB across a 6 GHz span. The modular architecture ensures a solution that expands as measurement requirements change, an essential feature as 5G advances.