Head Quarter film post production relies on R&S CLIPSTER mastering system from Rohde & Schwarz for HDR workflows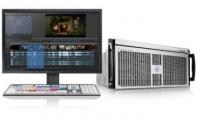 12/13/2016
Head Quarter
, a full-service film post production company, is also responsible for production finishing. It has long used the
R&S CLIPSTER mastering system
from Rohde & Schwarz for classic playouts. The company utilizes R&S CLIPSTER to create digital cinema package (DCP) and interoperable master format (IMF) content including subtitles for cinema productions and for film exploitation. Head Quarter has been using the new version 6 since October of this year. The highly versatile tool allows high dynamic range (HDR) workflows for Dolby Vision (cinema and home), HDR10 and hybrid log gamma (HLG), enabling Head Quarter to meet customers' increasing demand for HDR content.
Due to HDR, the challenge in the future will be to create multiple derivatives of a master for each production. The new color processing engine of R&S CLIPSTER performs this task. It allows material to be processed with 32-bit floating-point support. As a result, content can be directly exported from the grading system to R&S CLIPSTER, easing the load on the color grading system so that it can concentrate on its core task. In addition, users save memory capacity, since only one uncompressed master for all derivatives is required.
Andreas Froehlich, managing director of Head Quarter, says: "The performance of the new R&S CLIPSTER generation for utilizing HDR capacities convinced us. Since 2013 we have been using the academy color encoding system (ACES) standard created by the Academy of Motion Picture Arts and Sciences, so we are all the more delighted that the mastering station now also supports this standard. It will therefore remain an integral part of our production environment."
R&S CLIPSTER has established itself as the all-in-one solution for mastering and delivering premium content. The new functions enable content creators to master their films and TV content faster and more reliably, especially for productions with high resolutions, high frame rates and expanded color space.
---
Related Information: