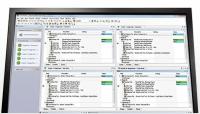 10/28/2016
NI (Nasdaq: NATI), the provider of platform-based systems that enable engineers and scientists to solve the world's greatest engineering challenges, announced TestStand 2016. This latest version of the industry-leading test management software focuses on helping the more than 10,000 current users to further increase their productivity while also helping to ensure the initial success of new developers.
TestStand 2016 continues to deliver features that drive faster development, deployment and maintenance of automated test systems through:
A redesigned Property Loader for importing/exporting test sequence variables, limits, properties and more
Additional right-click options and a native enumeration data type to help increase productivity when developing and modifying test sequences in the TestStand Sequence Editor
Simultaneous execution and development of multiple independent applications through TestStand Environments
As product quality, time to market and cost pressures continue to rise, leading companies task their test departments with increasing test coverage to ensure product reliability with fewer resources. When compared to the development and maintenance costs inherent in building an in-house test executive, commercial off-the-shelf test management software can help users drastically shorten overall time to market. Developers can take advantage of out-of-the-box functionality for common tasks like sequencing, parallel test execution, report generation, database logging, operator interfaces and system deployment, and customize each functionality per their requirements.
"Environments in TestStand 2016 have greatly simplified and sped up the development of my suite of universal test benches. Between off-the-shelf features, such as parallel test, and customization available through plug-in architectures, TestStand is the tool that allows me to develop my complex test sequences faster," said Elaine Ramundo, senior development engineer in the Mobile Device Division at Qorvo. "Coupled with superior support and integration with the NI toolchain and other vendors, TestStand continues to be the premier choice in a test executive rather than building and maintaining my own."
Customer feedback from the TestStand Idea Exchange drove the newest features in TestStand 2016. NI continues to value the customer as the smartest component of any test system. Coupled with LabVIEW system design software and high-performance, modular PXI instrumentation, TestStand augments NI's smarter, platform-based approach to building automated test systems, which is supported by an ever-expanding ecosystem of developers and partners.
To learn more about TestStand 2016, visit www.ni.com/teststand/demos