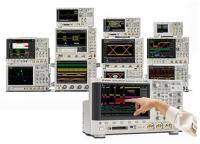 08/19/2016
Keysight Technologies, Inc. announced that Allion Labs, Inc., an international electronics certification laboratory (www.allion.com), has successfully adopted Keysight's high-speed digital measurement solutions to offer certification testing services for the new Thunderbolt™ 3 hosts (motherboards, notebooks, add-on cards, all-in-one systems) and devices. As a result, Allion is now an Intel authorized certification lab for Thunderbolt 3 technologies.
With its superior scalability and high bandwidth, Thunderbolt technology is now supported by a wide variety of Microsoft operating systems, x86 host devices, desktops, displays and notebooks. The high-speed digital transmission interface features increased system supports, integrated chip modules and peripheral applications, making it the industry standard of high-speed transmission. In particular, as it transports PCIe® and DisplayPort traffic, Thunderbolt provides an efficient serial connectivity. In the future, developers will be able to offer a complete range of peripheral devices and topologies simply connected through a single Thunderbolt interface. This opens up new possibilities for creating innovative computer design modules and architectures.
"We are happy to choose Keysight as our strategic partner for developing emerging high-speed digital applications such as Thunderbolt technology," said James Ou, vice president of Allion. "Keysight has the expertise and complete compliance testing solutions recognized by standard organizations."
"It is important for us to use the most accurate test and measurement equipment, and one which offers excellent hardware and software upgradability. Keysight's Thunderbolt 3 solutions, featuring powerful test automation capabilities, ease of use, high integration, flexible bandwidth upgrades of oscilloscopes, along with up to 32 Gbps data rate and extended multi-channel measurement capabilities supported by M8000 series modular BERT, can meet all of our certification testing demands," Ou added.
"This announcement builds on Keysight's and Allion's long-term relationship of collaborating on compliance validation solutions for USB 3.x, HDMI 1.3/1.4, DisplayPort, SAS/SATA 12 Gbps, TransferJet, and more," said Allen Chang, president and general manager of Keysight, Taiwan. "The Thunderbolt 3 announcement provides more evidence of Keysight's ability to offer the most comprehensive and advanced test and measurement solutions."
Find more details here.