TI's 65-V micro-power buck converters feature industry's lowest quiescent current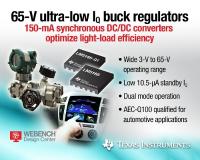 07/05/2016
Texas Instruments introduced two 65-V, 150-mA synchronous DC/DC buck converters with the industry's lowest 10.5-uA quiescent current (IQ) for powering factory automation and automotive sensor applications requiring high efficiency. The industrial-grade LM5165 and automotive-grade LM5165-Q1 micro-power step-down regulators feature a wide input voltage (VIN) range and dual control modes for optimizing efficiency and printed circuit board (PCB) area. By using the regulators together with TI's WEBENCH® Power Design tool, engineers can get their factory and process automation designs to market faster. For more information, samples and an evaluation module, see www.ti.com/lm5165-pr.
The wide 3-V to 65-V operating range enables the LM5165 and LM5165-Q1 micro-power regulators to handle the highest transients in industrial sensor and programmable logic controller (PLC) applications, as well as start-stop and load-dump conditions for 12-V/24-V lead-acid and emerging 48-V lithium-ion automotive batteries. Integrated dual metal-oxide semiconductor field-effect transistors (MOSFETs) reduce PCB area, while a programmable current-limit scheme reduces inductor size. Both regulators operate at junction temperatures up to 150ºC for higher temperature environments. The LM5165-Q1 is AEC-Q100 qualified for automotive applications.
LM5165 and LM5165-Q1 key features and benefits
Low 10.5-uA standby IQ (operating with no load) enables 90-percent conversion efficiency at 1-mA to 10-mA loads to extend battery life in "always on" applications. Read the blog post "Powering smart sensor transmitters in industrial applications."
100-percent duty cycle enables low-dropout operation, while a P-channel high-side MOSFET eliminates the bootstrap diode and capacitor.
Dual-mode operation: a pulse frequency modulation (PFM) control mode enables the highest efficiency power supply design, while a constant on-time (COT) control mode provides higher output current and better electromagnetic interference (EMI) performance. Read the application note "Simple success with conducted EMI from DC/DC converters."
Fixed 3.3-V and 5-V options eliminate external feedback resistor dividers to lower bill of materials (BOM).
Programmable current limit optimizes inductor size and cost.
The LM5165 and LM5165-Q1 join TI's family of wide VIN DC/DC step-down regulators that include the LM5017, LM5160 and TPS54062. Get more information on TI's high-performance DC/DC converter portfolio for any power supply design.
Find more details here.