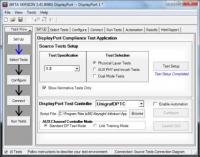 01/08/2016
Keysight Technologies, Inc. announced the industry's first DisplayPort 1.3 source compliance and validation software. The U7232D DisplayPort 1.3 compliance and validation test software runs on Keysight's industry-leading Infiniium oscilloscopes and provides a complete compliance test suite for the extensive physical-layer tests required for DisplayPort 1.3 source devices.
The DisplayPort specification defines a digital audio/video interconnect used primarily between a computer and its monitor or a computer and a home-theater system. The Video Electronics Standard Association (VESA) released the DisplayPort 1.3 specification in September 2014 and is close to releasing the related compliance test specification. The DisplayPort 1.3 specification, and soon to be released, DisplayPort 1.4, increases the possible data rate to 8.1 Gbs and adds new measurement methods and patterns, further complicating the process of validating all possible DisplayPort states.
Transmitting data robustly at 8.1 Gbs over inexpensive media such as standard or flexible PC boards requires pre-emphasis constructs in the transmitter, and receivers must employ a minimum equalization to decode the data. The transmitter tests require that a mathematical worst-case channel model be used on the source before a reference equalizer is employed to make the source eye diagram and jitter measurements. The reference equalizer included for HBR3 (8.1 Gbs) includes a decision feedback equalizer much like that used in USB 3.1.
"Keysight's compliance test software solutions have been an ongoing, key aspect of the DisplayPort ecosystem and interoperability program, and VESA is pleased to see Keysight continue to make major contributions in phy layer testing as we move into DisplayPort 1.3 and beyond," said Bill Lempesis, executive director of VESA, the organization that oversees the DisplayPort specification.
Keysight's DisplayPort 1.3 source compliance and validation software makes these measurements automatically and builds on the usability and configurability of previous-generation compliance test software. As a result, engineers can continue to count on the usability and accuracy they have enjoyed in the past.
"DisplayPort technology demands a flexible, configurable tool that can be employed in a variety of use models – from characterization of transmitter integrated circuits to compliance testing of systems," said Dave Cipriani, vice president and general manager of Keysight's Oscilloscope and Protocol Division. "Our DisplayPort compliance test software gives engineers that flexibility and helps them confidently and thoroughly accomplish their DisplayPort characterization tasks."
Features of the U7232D DisplayPort 1.3 source compliance and validation software include:
Full physical-layer testing of the high-speed DisplayPort lanes
Support for multiple standards (DisplayPort 1.2a and DisplayPort 1.3)
Physical-layer AUX channel tests
Test automation support
Guided device and test setup system
Measurement parameter configurability for debugging
In addition to the U7232D software, Keysight DisplayPort test solutions include:
DSAV1604A or DSA 90000 X-Series Infiniium oscilloscopes
DisplayPort test-point adapter, such as the N7015A for the USB Type-C connector or other appropriate test-point adapter such as the BIT-mDP-PTF-0001 from Bitifeye Corp
Oscilloscope amplifiers and probes (optional)
Switch Matrix for sequenced testing of multiple lanes (optional)
Unigraf DPR-100 AUX channel controller (optional)
Find more here.