IMS 2023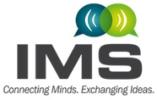 International Microwave Symposium is the flagship event in a week dedicated to all things microwaves and RF. The week also includes the IEEE MTT-S Radio Frequency Integrated Circuits Symposium (RFIC) and the Automatic Radio Frequency Techniques Group (ARFTG).
Focus themes are:
- Systems & Applications
The development of RF, microwave, mmWave, and THz systems continues to expand in several areas, with many application examples. This broad topic can encompass design from semiconductor through device/module to the overall system and applications. The focus will be:
Wireless Communications, including 6G developments, Wi-Fi, RF and microwave system-on-chip integration, massive MIMO systems and subsystems, and more;
Wireless Power Transfer;
Automotive Systems;
- Space
Area of Aerospace will include such topics as satellite communications, design for reliability, radiation hardness, internet of space systems, CubeSats…
- Biomedical Applications
Illustrating the use of RF and microwave techniques and technology in biomedical applications.
Start Date: 06/11/2023
End Date: 06/16/2023
Venue: San Diego Convention Center; San Diego, CA
Organizer: IEEE / MTT-S