About Steamboat Geyser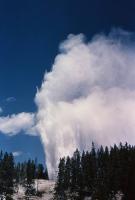 In Yellowstone National Park in the USA there is the biggest active geyser - Steamboat Geyser. The column of water in it can rise up to 90 m (295 ft). The geyser eruption can last up to 3 hours 40 minutes.
New Zealand Waimangu geyser was much bigger than Steamboat Geyser and erupted about 800 tons of water and the stones seized with the water flow could be lifted up to 457 m (1500 ft). But it became inactive in 1904.