Invention of the first chewing gum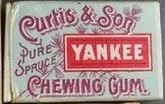 On September 23, 1848 John Bacon Curtis invented the first chewing gum at home. It was a type of candy that consisted of an inedible elastic base and various flavoring and aromatic additives. He came up with the idea to open an industrial production of chewing gum from pine resin. Later Curtis began to add paraffin flavors to this product.
Chewing gum (already based on rubber) received a new life in 1869, thanks to the inventor Thomas Adams. People liked this invention that was a start of mass production. In 1871 Adams invented and patented a machine for the automatic production of chewing gum and at the same time he started to add licorice extract to improve its taste and increase sales.